TESTIMONIALS FROM CLIENTS
I always ask clients what they think of my services and how I can improve not only as a web designer, but as a small business. I would like to thank all of my clients for choosing Barry's Web Design as their web designers and as you will see from the feedback I have received, they know they have made the right choice.

All of the testimonials below are in my clients own words..

FIONA AND COLIN WISEMAN
THE OLD STATION, ST. ANDREWS
We have been using Barry's Web Designs for 8 years and have had amazing service.
Barry suggested we change our website 2 years ago as he noticed it was looking a bit tired, he took up to date photographs and set out the new site and since then our bookings have increased and many of our guests comment on how good our website is and how easy it is to use.
Not only has he generated more business for us, he is also at the other end of the phone whenever I need advice with my computer. As I'm not very " computer savvy " Barry has helped with any problems I've had and explained it all in laymans terms.
I wouldn't use any other company for web design and assistance.
HARRY OGG
DIRECTOR AT BODY TONE WAREHOUSE, MUSCLE XCESS, X2X CLOTHING UK.
I initially chose Barry's Web Design to create my website because they were a local company and offered some terrific prices and packages. From our first meeting I found Barry to have have sound knowledge and great technical ability, he gave me his thoughts and ideas for the design and set up of my website and allowed me to also have my own input.
The result is an excellent eye-catching, easy to navigate website without costing a fortune! I have had so many people commenting on how good my site is.
Barry provides an excellent service, he is very easy to contact and always responds immediately to any requests i have for updates or technical instructions. My experience with Barry's Web Design has been both enjoyable and great value for money, he has more than gone the extra mile with me, so much so that I have had a further 2 Websites made for other business ventures.
I would have no hesitation in giving Barry's Web Design my highest recommendation.

ANGIE BELL
FRILLY FOCAL
After lots of problems with my old website I was really worried whilst looking for a new web designer. I wanted to know exactly what I was getting & all of my rights before committing to anything.
I found Barry's site within seconds of searching the internet for local designers & after looking at all of his work I decided to give him a call. I was able to go to his studio & have a face to face chat about everything I wanted, what would work best etc. That night he sent me a list of everything that would be included in my package, everything sounded great so I decided to go ahead. I was very set in my mind about what I wanted the website to look like but Barry explained how certain things would work when people were looking for photographers online so we have come to a compromise on the look of the website and the functionality but it looks better than I could have imagined & more importantly - it works!!
Since optimising the pages I have had so many new enquiries, far more than I got before & that is down to Barry. If I had been left to my own devices I would have had a pretty, girly looking site but would have been pretty much lost on Google. My new site is so easy to use for clients as well as myself. I need to upload private viewing galleries regularly for new clients so it has to be easy & not take up too much time. I can do this myself without any help as the system is so easy to use but if I ever need any help Barry gets back to me very quickly and it's sorted there & then. I feel like a weight has been lifted from my shoulders with this new website, I can now send clients & potential clients to my site with confidence, knowing that everything works and looks great.
Thank you again Barry's Web Design, I will definitely recommend you to anyone who is looking for a website.

JUNE CUTHILL
SALES & MARKETING COORDINATOR AT SP TECHNOLOGY
We found working with Barry on our website a pleasure. Barry listened to what we wanted and delivered, there was no pushing for over the top bells & whistles that weren't needed which made working with him very easy.
His website software is simple and easy to use..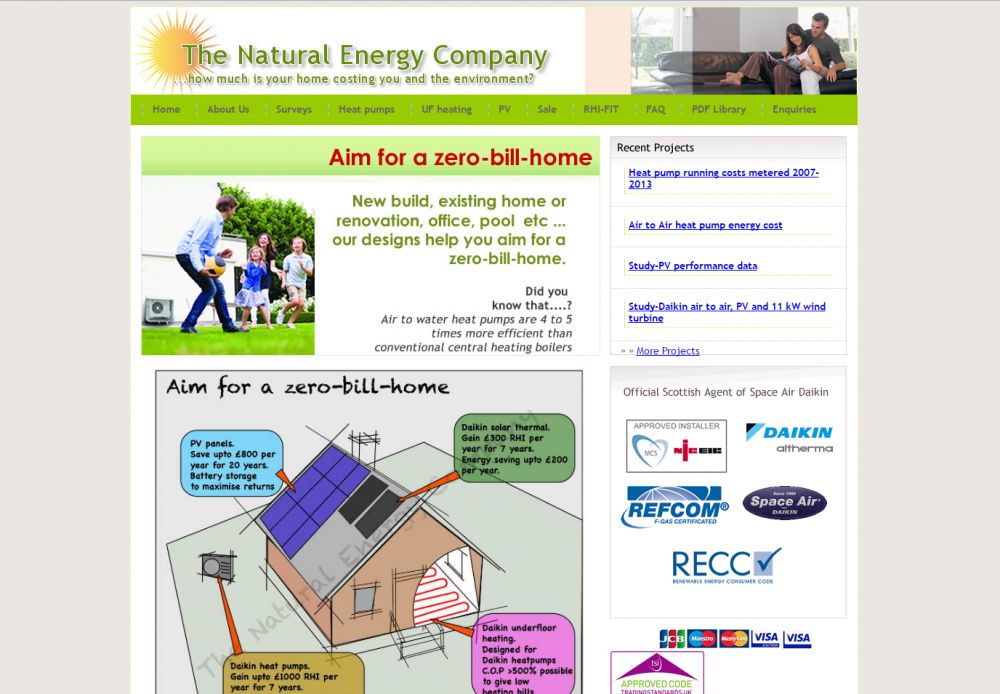 JENNY AND RICHARD
NATURAL ENERGY COMPANY
Very creative, helpful service provided by Barry who designed our new website from scratch.
No hidden costs and the management programme that Barry designed for us, which enables us to edit the website when we want, is invaluable.
SIMON GORDON
THE SHIELING , AVIEMORE
Great service and our website is so easy to use it saves us time and money.
Working with Barry we were quickly up and running with a site that we receive many compliments for. People said it was easy to use and contained the information required. Making adjustments has been easy and the cost has been very reasonable. We have seen an increase in bookings and have recommended Barrys Web Design to others.
We would definitely use Barrys Web Design for any future projects.